<<Return to Cosplay Collection >>
Angelina Durless
'Madame Red'
My first cosplay since I decided this was a hobby I really wanted to pursue… you can check out my very first attempt here. This character was sort of tossed on me at the time, and then I had barely any experience to go on, plus, no sewing machine, no experience with wigs… nothing. So I watched a few episodes of Naruto Shippuden, and followed up with a lot of brainstorming and conception on the wig and eye piece. For my first attempt on props, I thought I did a decent job.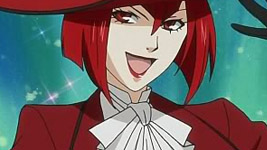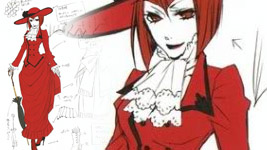 Construction Details
Cosplay - While I didn't actually create the gown, it was mainly handled by Maria from GS Props, I did help out a great deal with a lot of the grunt work: Ironing ruffles, making bias tape… etc. The gown was as accurate as we could make it, with a full bustle and Victorian era skirt pattern. It was very interesting to watch it all come together, and at the same time extremely stressful and I wasn't the one behind the sewing machine O_O
"I am sort of embarrassed to admit to how many of these characters I hadn't known about until after the cosplay was planned. Don't get me wrong, in almost all cases I would watch the series as soon as I found out I was cosplaying them, but most of the time I didn't know who I was picking.

Anyways, it was a really hot cosplay to wear, but I certainly felt cool. It looked pretty good, even though with all the fabric, and the corset I worn underneath, it was very difficult to look petite /sigh "
Wig – The wig went through several heat treatments to get the very straight/flat look that Madame Red had. Cut and styled by Moi.
Props – I made a hat, which barely got worn because I didn't like it. I also made little boot covers out of vinyl, and the little handkerchief looking thing around the neck. Maybe other stuff too, but I don't remember. So long ago!
Cosplay Worn @
Akon 21 2011
Mechacon2011
Thank you to all of the talented photographers who helped me bring this cosplay to life. Images include in this gallery are provided courtesy of the following...
©Foa Cosplay | Team Zhang
<<Return to Cosplay Collection >>